REGISTRATION FOR THE 2018-2019
SCHOOL YEAR IS NOW OPEN!

Don't miss the opportunity to send your child to an amazing school and be part of the wonderful community that is ECP.  Nominated for the "Excellence in Bloom" Award in 2017!  Experienced staff and play-centered learning.  A co-operative school helps you be involved in your child's education. For more information on registration, please contact Kelly and Jackie at: ecpvp1@gmail.com or 410-929-6730.
ECP follows the age requirements set below, with no exception, for the 2018-2019 school year:
Two Day Class students must be 3 years old by 12/31/18
Three Day Class students must be 4 years old by 12/31/18
———————————————————————————————————
The following are required for enrollment: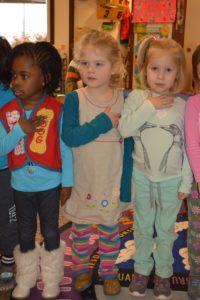 •  Registration Form 2018-2019
•  Membership Agreement 2018-2019
•  Copy of Proof of Child's Age (birth certificate or passport)
•  Copy of Co-oping Parent's Vehicle Registration
•  Copy of Co-oping Parent's Current Car Insurance
•  $50 Non-Refundable Registration Fee
(Check or money order ONLY, Payable to East Columbia Preschool)
For more information on registration, please contact Kelly and Jackie at: ecpvp1@gmail.com or 410-929-6730